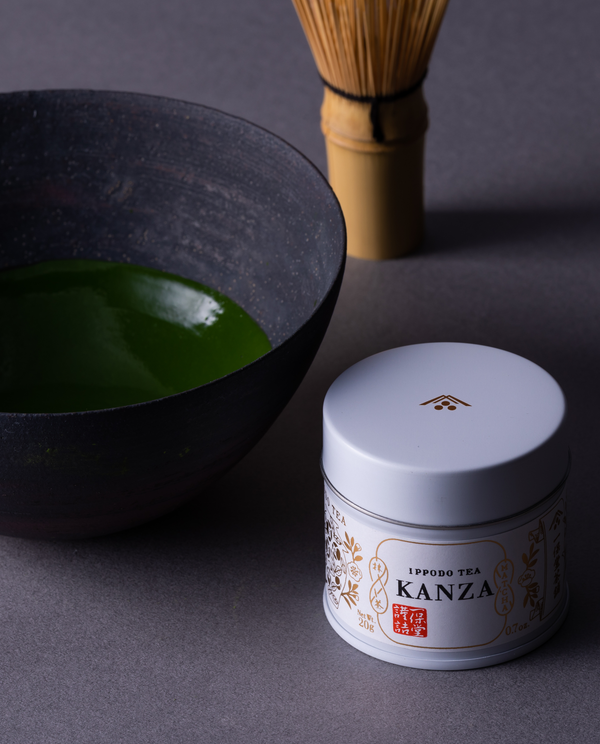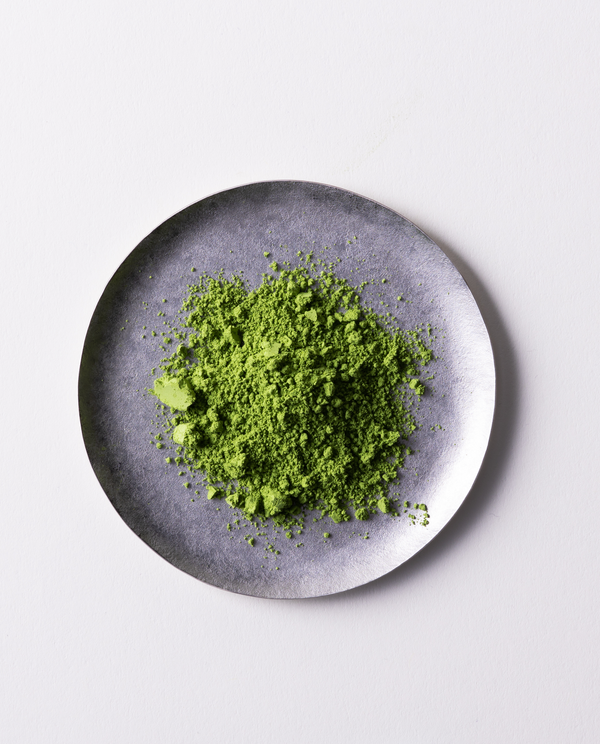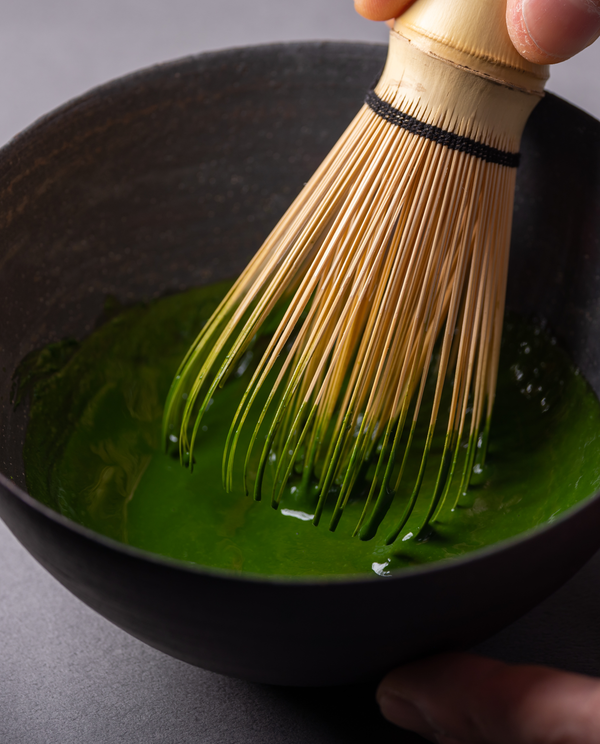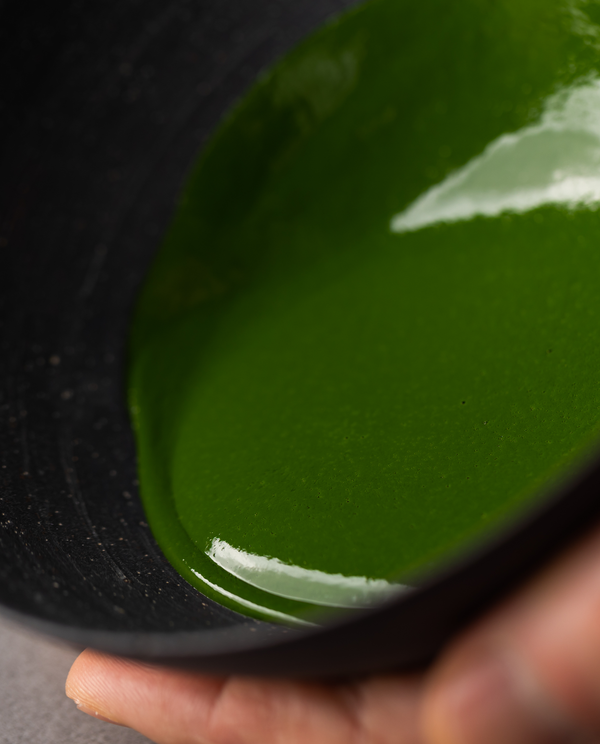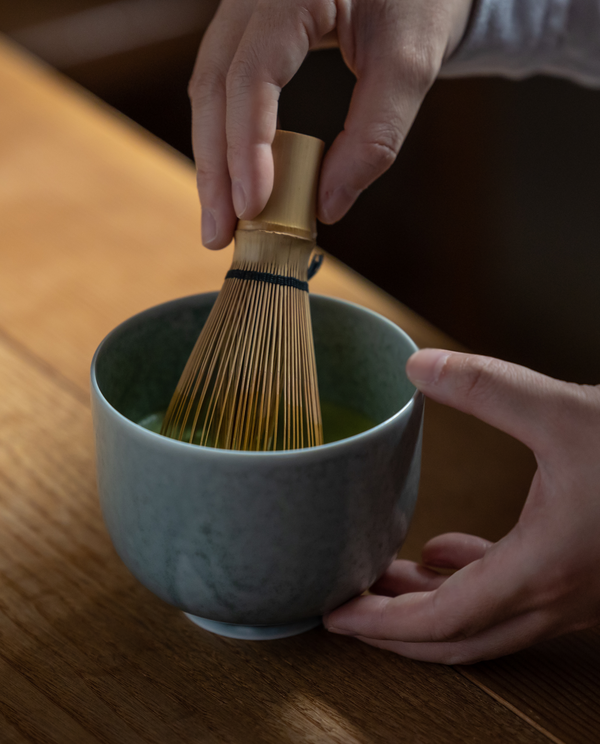 ---
A luxurious, adult treat.
---
The cream of the crop, benefitting from the growers' meticulous attention
The tea plant, a member of the camellia family, has a natural sweetness when it begins to grow, but it becomes more astringent the longer it's exposed to the sun. To curb astringency and bring out richer sweetness, the whole tea field is covered to create a shaded area for matcha to grow. Growing new leaf buds while keeping them in near-darkness is extremely challenging. Considerable skill and experience are also required to manufacture tea that brings out the ingredients of the delicate, freshly picked young tea leaves to their fullest. Kanza is the ultimate expression of tea growers' passion for Japanese tea.
---
How does it taste?
Kanza is the highest-ranking matcha in our lineup. Its beautifully strong fragrance, unwavering umami, clean aftertaste, and silky character are unparalleled in our collection. Our blending and tasting team members have shared their personal tasting comments on this tea below.
"In Kanza you can enjoy a strong and rich umami, with an aftertaste that has remarkable depth. It reminds me of an excellent full-bodied red wine. I will reach for Kanza when I want to have a silent moment alone with my thoughts. Its lush character deserves quiet attention and focus."
PRESIDENT WATANABE, 7th generation
"Both Kanza's fragrance and flavor are unequivocally powerful. From the first moment you take a sip to the end of the finish, it has a strong, unwavering umami, and no astringency. But make no mistake; it is not at all light-bodied."
CHAIRMAN WATANABE, 6th generation
How/when to enjoy it?
The best way is to focus your entire attention on listening to the sound of water boiling and matcha being prepared with a whisk in a quiet space, and the fragrance of matcha wafting into the air, and the flavour and fragrance experienced when drinking the matcha. It's great for when you want to concentrate.
What to enjoy it with?
Kanza is a matcha that should be savoured straight—as nothing but pure matcha. Relish its deep, bold umami flavour that lasts from the first sip to the last, as well as its rich fragrance.
How do Ippodo staff use it?
Kanza has a smooth mouth feel and a refined, elegant flavour. Another distinctive feature is its magnificent, bright green colour. The best way to savour this matcha to the full is as koicha (thick matcha), adding only enough water to blend the powder into a smooth paste. Savour the luxurious flavour and fragrance produced thanks to the tea leaves having absorbed an abundance of rich nutrients.
Made with only the finest tea leaves

These carefully handpicked tea leaves constitute the cream of the crop, grown using meticulous cultivation management backed by the full knowledge and experience of the tea growers. Only a limited quantity of tea leaves of this quality can be produced. Kanza has flavour that should be truly savoured.

Special colour, flavour and fragrance

The characteristic nature of this matcha can also be noticed in its deep, vivid colour. The rich fragrance that rises into the air when the matcha is whisked is also magnificent. It calms the mind and fills you with a feeling of joy. The Kanza experience begins even before you start drinking it.

Enjoy it during quiet moments of reflection

Kanza has rich flavour with particular depth. As you drink it, you will see how it presents the full range of qualities—umami, sweetness, sharpness, and fragrance. Quietly hone your senses, focusing your awareness on each quality, one by one, to discover which you like the best.
How to Prepare
Basic usucha (matcha)
1 Sift 2g of matcha (1.5 heaped tea ladles or 1 level teaspoon)
2 Add 60ml of hot water (80°C)
3 Whisk vigorously for 15 seconds
Preparing the usucha quickly is the secret to enjoying the full fragrance.
Basic koicha (matcha)
1 Sift 4g of matcha (3 heaped tea ladles or 2 level teaspoons)
2 Add 30ml of hot water (80°C)
3 Mix slowly with a whisk for 15 seconds
Specs
Kanza 20g Can
Size of Package : Dia.5.3 x H5.2 cm
Net Weight : 20 grams
Per Serving : 2 grams (usucha) 4 grams (koicha)
Ingredients : Green tea (Japan)
Shelf Life : 180 days
About gift wrapping