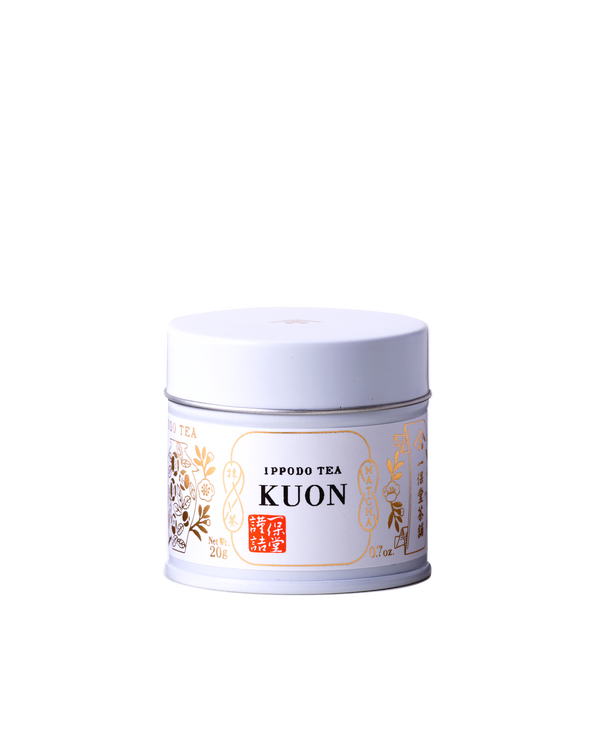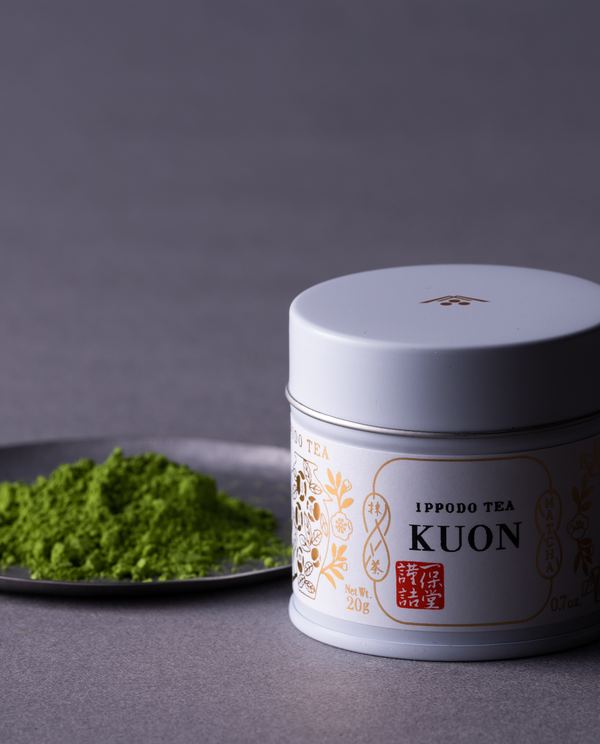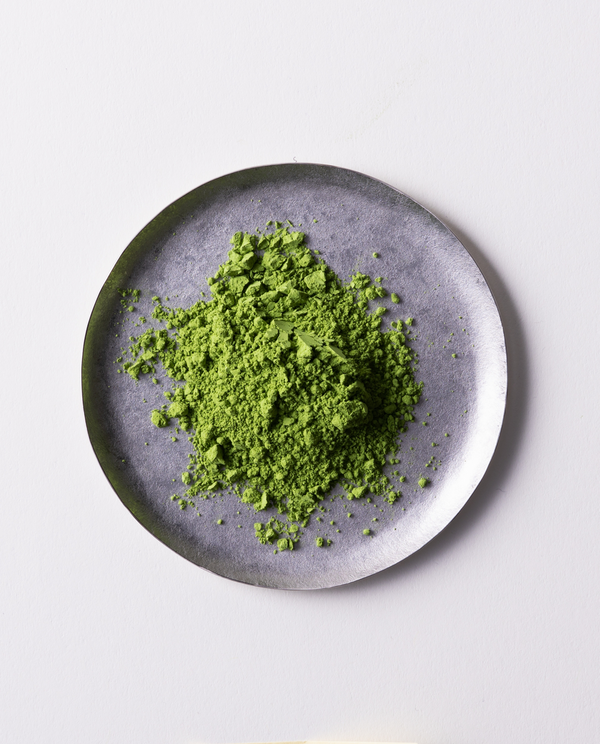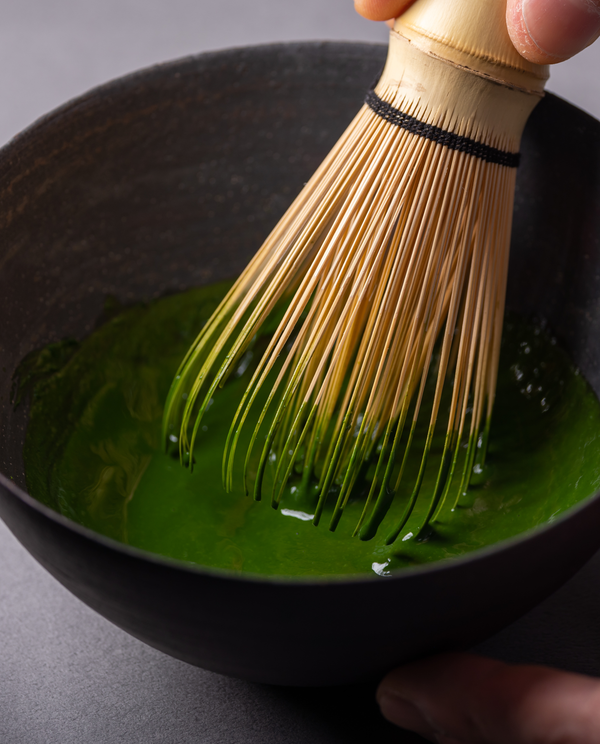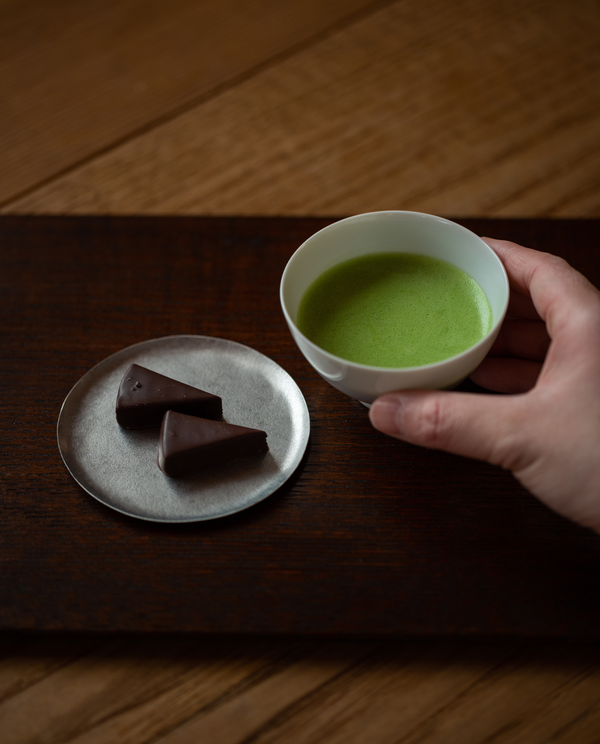 ---
A great pick-me-up in the morning.
---
The cream of the crop, benefitting from the growers' meticulous attention
The tea plant, a member of the camellia family, has a natural sweetness when it begins to grow, but it becomes more astringent the longer it's exposed to the sun. To curb astringency and bring out richer sweetness, the whole tea field is covered to create a shaded area for matcha to grow. Growing new leaf buds while keeping them in near-darkness is extremely challenging. Considerable skill and experience are also required to manufacture tea that brings out the ingredients of the delicate, freshly picked young tea leaves to their fullest. Kuon is the ultimate expression of tea growers' passion for Japanese tea.
---
How does it taste?
Kuon has a vivid green color, a long aftertaste, and rich umami - hallmarks of a high-class matcha. It stands out for its wonderfully bright fragrance. Our blending and tasting team members have shared their personal tasting comments on this tea below.
"Kuon feels clean and refreshing, in both the umami at the start and in the aftertaste. Comparing it side-by-side with Kuon, its crisp aftertaste reminds me of the feeling I get when drinking white wine. I enjoy drinking Kuon in the morning while I'm still waking up. Taking a sip of its refreshing, crisp taste is like pressing a start button for my body and my spirits. I would also suggest pairing it with something a little sweet, for a palate-cleansing experience."
PRESIDENT WATANABE, 7th generation
"Kuon has a strong fragrance and a deep flavor, and a while after the first impression, I begin to very slightly sense a touch of crisp astringency."
CHAIRMAN WATANABE, 6th generation
How/when to enjoy it?
It's great for waking up in the morning, before a meeting or presentation, or when making a new start in life. Its rich fragrance invigorates you on important occasions and when making a new start, and its crisp, refreshing taste helps you get going, both mentally and physically.
What to enjoy it with?
We recommend preparing Kuon straight, as pure matcha, and savouring the wonderful fragrance that rises into the air and its crisp, refreshing taste. Have it with something slightly sweet like dark chocolate or marron glacé to savour matcha's mild taste.
How do Ippodo staff use it?
We whisk it using water that has been cooled slightly to draw out mellow sweetness and umami. It makes a good drink to enjoy when relaxing for a quiet time while reading alone.
Made with only the finest tea leaves

These carefully handpicked tea leaves constitute the cream of the crop, grown using meticulous cultivation management backed by the full knowledge and experience of the tea growers. Only a limited quantity of tea leaves of this quality can be produced. Kuon has flavour that should be truly savoured.

Special colour, flavour and fragrance

The characteristic nature of this matcha can also be noticed in its deep, vivid colour. The rich fragrance that rises into the air when the matcha is whisked is also magnificent. It calms the mind and fills you with a feeling of joy. The Kuon experience begins even before you start drinking it.

Make it your first drink of the day

Wake yourself up with Kuon in the morning, and make it a source of energy to help you get through your day. It is also great to enjoy as a personal ritual when you want to change gear and get yourself fired up for work, school, or some other activity. It's a good way to get yourself going.
How to Prepare
Basic usucha (matcha)
1 Sift 2g of matcha (1.5 heaped tea ladles or 1 level teaspoon)
2 Add 60ml of hot water (80°C)
3 Whisk vigorously for 15 seconds
Preparing the usucha quickly is the secret to enjoying the full fragrance.
Basic koicha (matcha)
1 Sift 4g of matcha (3 heaped tea ladles or 2 level teaspoons)
2 Add 30ml of hot water (80°C)
3 Mix slowly with a whisk for 15 seconds
Specs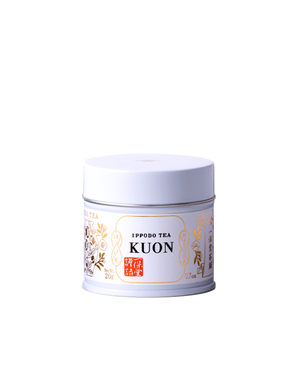 Kuon 20g Can
Size of Package : Dia.5.3 x H5.2 cm
Net Weight : 20 grams
Per Serving : 2 grams (usucha) 4 grams (koicha)
Ingredients : Green tea (Japan)
Shelf Life : 180 days
About gift wrapping