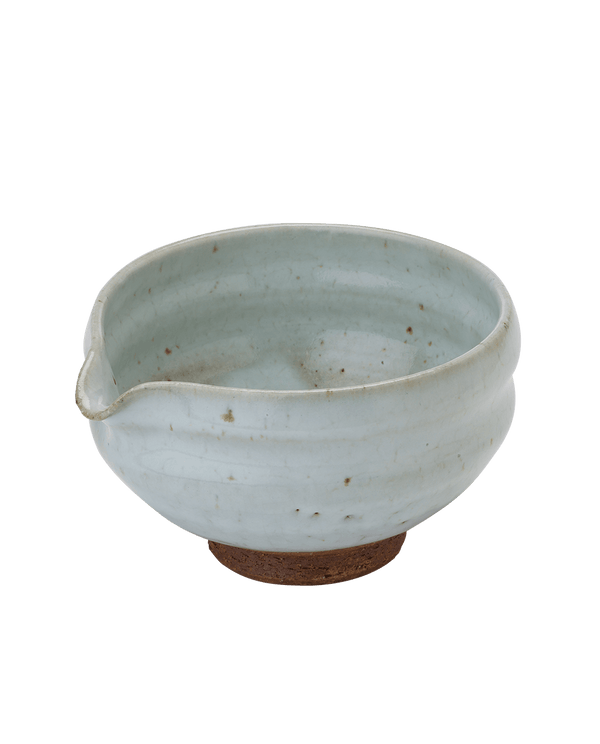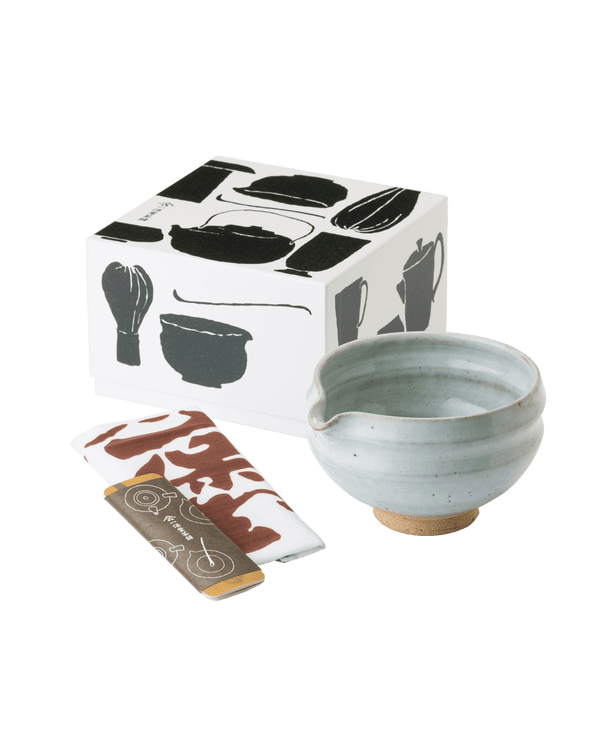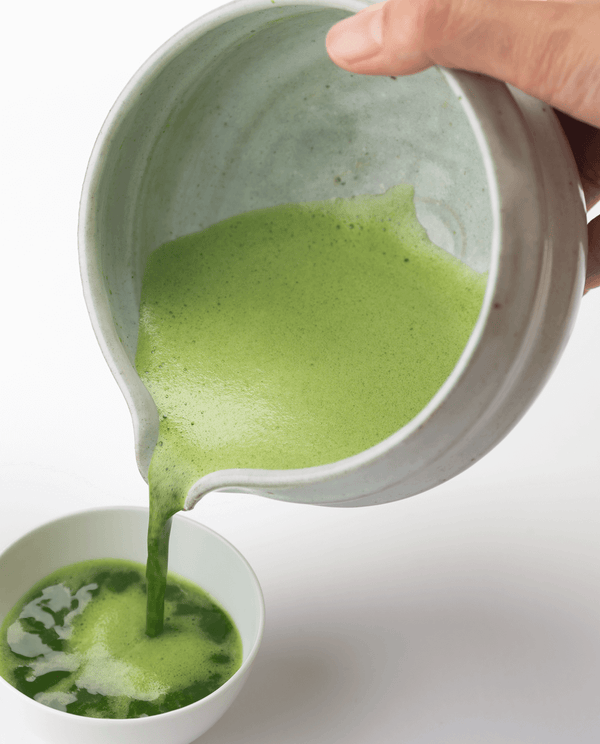 This item makes it easy to prepare multiple servings of matcha at once, functioning like a kyusu for matcha.
We designed this Tea Bowl with Serving Spout to serve as a kind of kyusu for matcha. When making matcha for a group, it's fine to prepare an individual serving of matcha for each person, and let them drink separately. However, we realized that it would be more convenient and fun if there were a tea bowl that would allow you to prepare everyone's serving at once and then serve it out in whatever cups you like, allowing everyone to savour the matcha at the same time. We hope this bowl with a serving spout will make enjoying Japanese tea even easier and more popular.
How do Ippodo staff use it?
Use it to prepare any kind of Japanese tea. All you need is Japanese tea, a chasen, a tea strainer, and this Tea Bowl with Serving Spout. Impress your friends by showing them how to do it.
Carefully designed for preparing and enjoying matcha

The tea bowl is designed with a number of functional features. It is broad and deep, providing plenty of room to whisk with a chasen, making the preparation of delicious matcha easy and fun. The high foot of the bowl and depression along the sides make it easy to hold. And its spout allows you to pour viscous matcha tea cleanly.

Beautiful as well as functional

All Tea Bowls with Serving Spouts provide the same great functionality, but because they are handcrafted by artisans, each possesses its own unique feel and look due to the distinctive shape and glaze it was given. Matcha looks particularly splendid in the black tea bowl. In the white tea bowl, on the other hand, it looks more natural and doesn't stand out quite as much. The tea bowl looks fine regardless of where you place it—in the kitchen, cupboard, or on the table.

Use it to prepare any kind of Japanese tea

It can also be used to prepare other kinds of Japanese tea, such as gyokuro, sencha, and bancha. Enjoy the beauty and fragrance of the tea leaves as they unravel in the tea bowl. Serve to a group by slowly pouring out into several cups, making sure to catch the tea leaves with a strainer.
Specs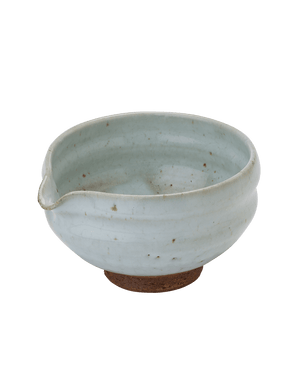 White Tea Bowl with Serving Spout
Box size : W16.5×D10.5× H16.5cm
About Tea Bowl : - Accessories: Tea cloth (fukin)
- Dimensions: Dia. 13.0× H9.0cm
- Made in: Made in: Gifu Prefecture, Japan (Mino-yaki)
- Dishwasher safe?: No
- Dishwashing detergent OK?: Yes
* Each tea bowl is one-of-a-kind, possessing a unique design and feel imparted during the firing process according to the position of the bowl in the kiln and the flow of the flames over it.
About gift wrapping