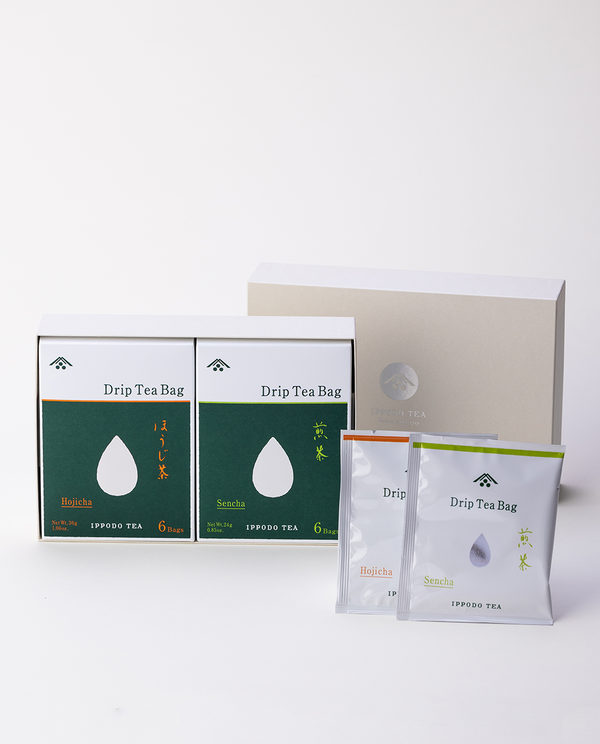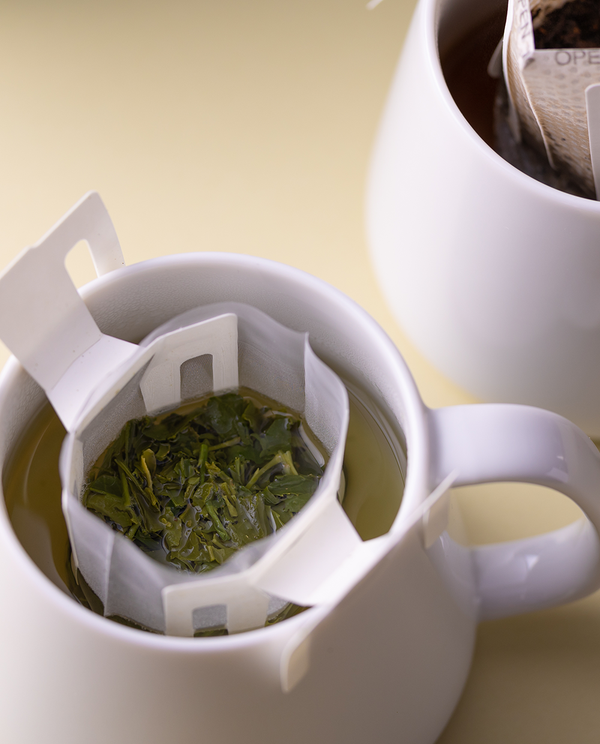 What kind of gift is it?
This set contains two different kinds of Japanese tea in drip tea bags, which make preparation and clean up easy. All you have to do is set a bag on your favourite cup or mug and pour on hot water. It makes a great little gift that is casual, but looks elegant.
How does it taste?
Sencha has very refreshing taste and fragrance that make it perfect for serving to guests or for giving yourself a pick-me-up. Aromatic hojicha is good for when you want to relax for a moment or enjoy a cup of Japanese tea before going to bed. It can also be fun to just choose whatever suits your mood.
How/when to enjoy it?
There's a time during chores around the house or work at the office when you're ready to take a break for Japanese tea. So, when you've reached a good stopping point after some hard work, treat yourself to Japanese tea in your favourite cup made with a drip tea bag. And remember that you can make up to three cups worth using the same tea leaves!
Who do Ippodo staff give it to?
It makes a good gift for friends who like coffee, because it's prepared like drip coffee. They'll love the special moment when the tea's wonderful fragrance wafts upwards as soon as they pour hot water into the bag.
Make tea in your favourite cup

Drip tea bags allow you to enjoy the tea's fragrance as you prepare it. Savour its rich bouquet as you pour on hot water.

The clear golden-yellow hue of sencha and delightful ruby colour of hojicha

Sencha has a refreshing fragrance and an easy-to-drink taste that you'll soon become fond of. Hojicha goes splendidly with sweet foods that pair well with black tea or coffee. allowing for a variety of different ways to enjoy teatime.

The individually packaged bags stay fresh longer

Each bag is individually packaged to protect the tea leaves from air, humidity, strong odors, and sunlight, which is of key importance with Japanese tea.

Elegance, with a touch of panache

Decorated with the image of a drop in silver foil embossing on a chic, green background, the attractive packaging conveys just the right amount of festivity, making it suitable as a gift.
Specs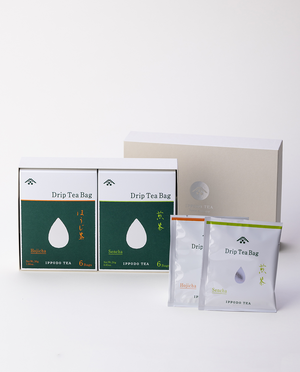 Drip Tea Bag Set (Sencha & Hojicha)
Size of Package : W21.8×D15.2× H5.5cm
Net Weight : Sencha 4 grams x 6, Hojicha 5 grams x 6
Ingredients : Green tea(Japan)
Shelf Life : 150 days
About gift wrapping