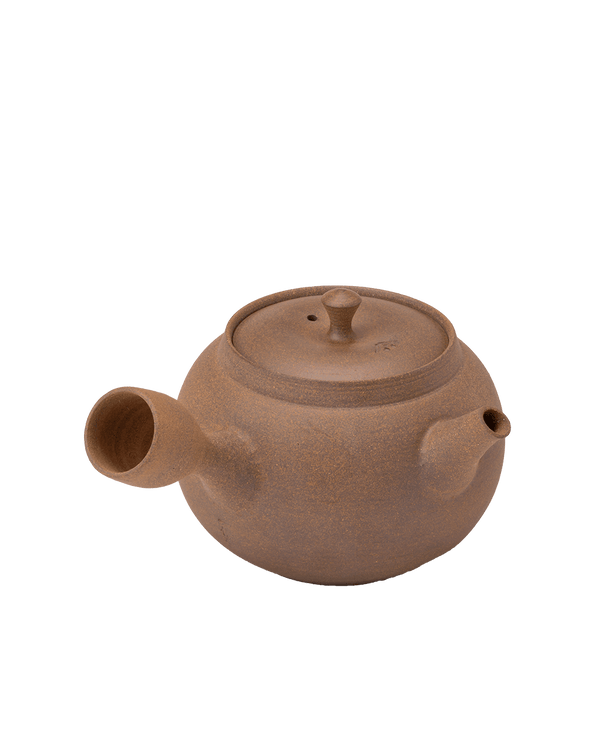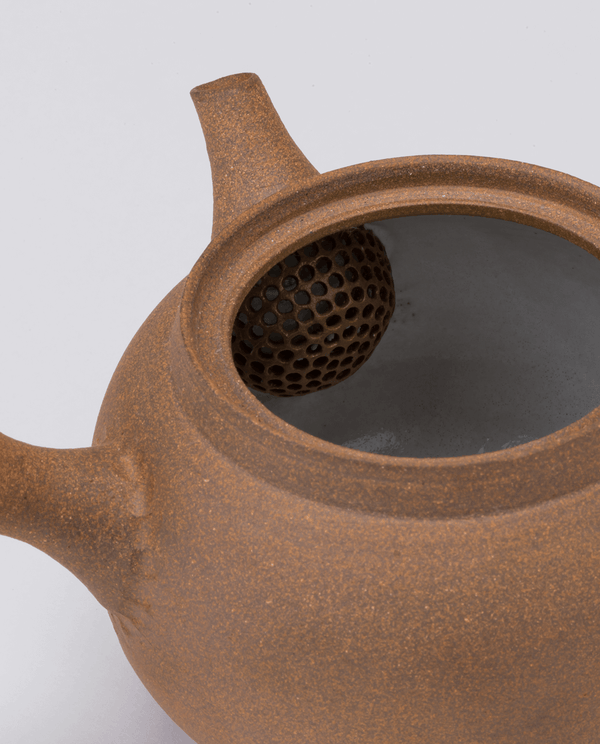 A highly functional left-handed kyusu created through the meticulous hand craftsmanship of artisans that can be used to prepare any kind of tea.
Before creating this kyusu, we sold small and large kyusu teapots, but each of these sizes was unsuited to preparing certain types of tea. So we created this general-purpose kyusu, which is handmade with magnificent craftsmanship, in response to requests for a teapot that would allow customers to do an excellent job of preparing all Ippodo teas except matcha.
How do Ippodo staff use it?
The tapered handle allows you to prepare hot tea with peace of mind without your fingers having to touch the body of the teapot. The kyusu is also relatively tough, so you don't need to take special care not to break it.
A stress-free left-handed teapot

We created this teapot to allow you to prepare Japanese tea left-handed with minimal stress and hassle. The angle at which you hold the teapot makes it possible to control the speed at which the tea is brewed while serving it, allowing you to make last-minute adjustments to the tea's flavour.

The lid fits perfectly so as to prevent leaking

The lid has been hand-polished to fit perfectly with the teapot. When you tilt the teapot, the lid stays firmly in place, so there are no leaks from around the lid, preventing spills when serving tea at the table.

The built-in tea strainer's fine holes allow you to pour smoothly without clogging

The large, dome-shaped strainer with over one hundred closely placed small holes allows you to pour out the tea smoothly without any clogging, even when the tea leaves have unravelled inside the teapot.

A general-purpose kyusu for preparing all loose leaf teas

This kyusu can be used to prepare all teas except matcha—gyokuro, sencha, and bancha.

White glaze on the inside improves visibility!

White glaze on the inside of the teapot improves visibility, making it easier to check the amount of tea leaves and water that have been added, and to see if any tea leaves remain after washing the kyusu.

One-of-a-kind kyusu handcrafted by artisans

Each kyusu is handcrafted by artisans at every stage of manufacture, making it one of a kind. As you use it, the kyusu steadily comes to feel a bit more comfortable in your hand and gradually changes in colour and lustre, allowing you to enjoy how its distinctive uniqueness matures over time.
Specs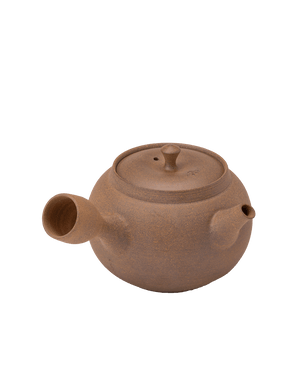 Left-handed Yakishime Kyusu Teapot (Banko-yaki)
Box size : W14.2×D9.5× H12.8 cm
About Kyusu Teapot :
- Capacity: 240ml
- Weight: 340g
- Dimensions: Dia. 6.5× H8.0 cm (excl. handle and spout)
- Made in: Mie Prefecture, Japan (Banko-yaki)
- Dishwasher safe?: No
- Dishwashing detergent OK?: No
- Bleach OK?: No
About gift wrapping