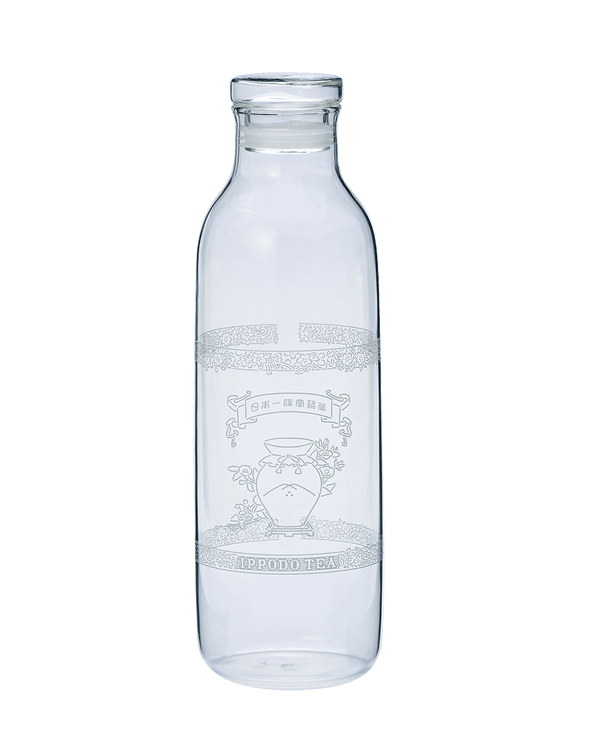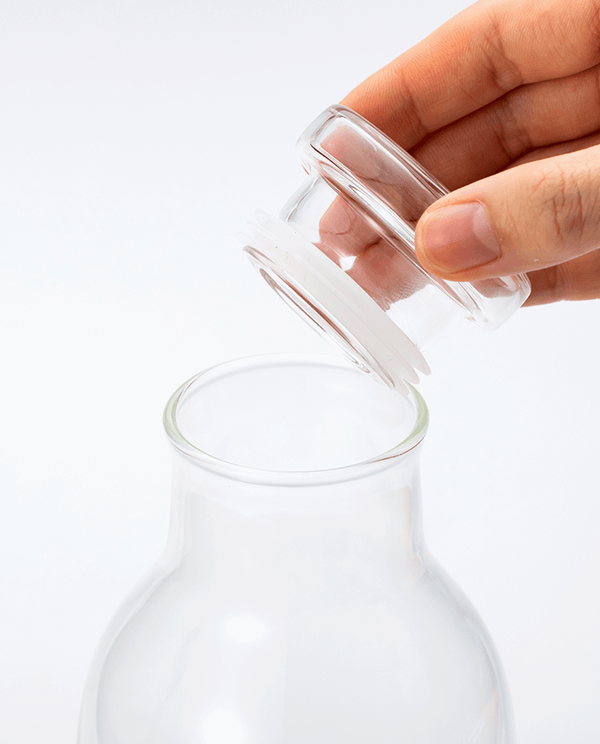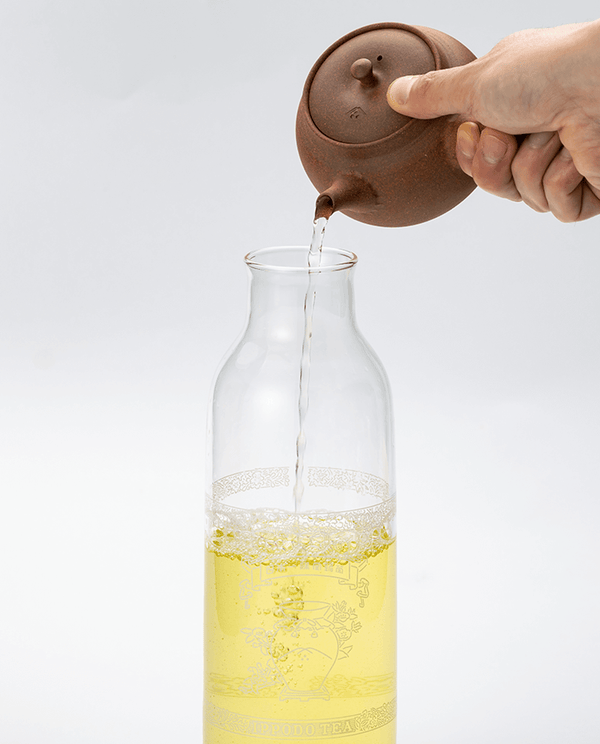 This carafe made of heat-resistant glass is handy for preparing and pouring tea, whether hot or cold.
We decided to offer this carafe in response to restaurants and cafés that wanted a jug that would allow them to easily prepare 1 litre of tea at one go. You can use it at home or at work.
How do Ippodo staff use it?
Put water and teabags in it at night, and wake up the next morning and enjoy delicious, cold-brewed tea. It comes in very handy for staying hydrated.
Use it as a container for hot or cold tea, or to make a large batch

Use it as a jug for Japanese tea or as a vessel for preparing the tea. You can use it to hold all the tea produced when preparing multiple batches of tea in the same kyusu. Alternatively, you can prepare tea in the carafe itself using teabags or loose leaf tea. Its big opening makes cleaning easy.

Low-key white logo and highly transparent glass bring out the colour of the tea

The transparent glass is adorned with a white logo. A tea jar and flower design appear when the carafe is filled with tea, making the colour of the tea look more vibrant. Place it on the dining table or store it in a refrigerator door pocket and use it to stay hydrated throughout the day.

Comes in a simple but attractive box

The box with a carafe motif makes it a good gift.
Specs
Carafe
Box size : W9.0×D8.8× H28.0cm
About Carafe :
- Capacity: 1L
- Dimensions: Dia. 5.0× H27.0×W8.5cm
- Manufacturer: KINTO Japan
- Made in: China
- Thermal shock resistance: Glass: 120°C
- Heat resistance: Silicone: 140°C
- Includes silicone seal
- Dishwasher safe?: Yes
- Dishwashing detergent OK?: Yes
- Microwave safe?: Yes
Note :
- In microwave, do not overheat or heat when empty.
- Do not subject to open flame.
- Sudden cooling of glass utensils may result in damage. When hot, do not touch with a damp cloth or place in a damp location.
- Do not hold by the lid to carry. The container may fall from the lid. resulting in damage.
- Do not wash with abrasive cleansers or brushes.
About gift wrapping