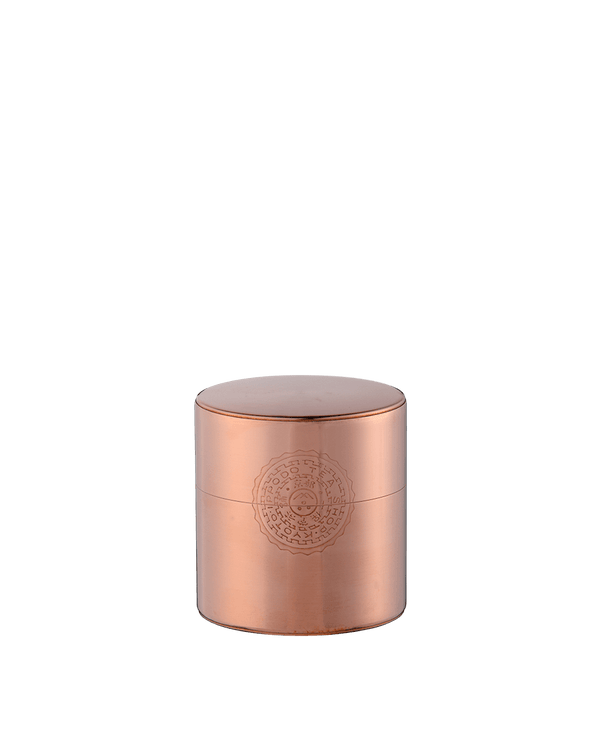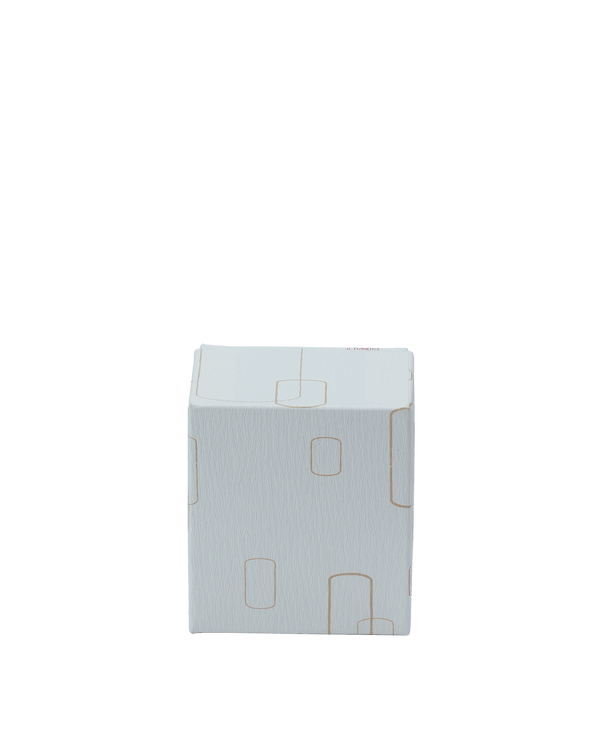 A copper tea canister made by Kaikado of Kyoto, engraved with the Ippodo seal.
Even the finest tea relies on being properly stored to retain its best flavour. Teas are affected by moisture, strong odours, and exposure to the air. A good tea canister can provide strong protection against such threats, so we commissioned tea canister specialist Kaikado to create cannisters appropriate for Ippodo teas. The resulting tea canisters are ideal for the storage of teas that you make a part of your life.
How do Ippodo staff use it?
Stroking it from time to time helps the patina to develop. Even after a few years, the color still has a long way to go before it's fully mature.
Kaikado—tea canisters with functional beauty

Founded in 1875, Kaikado is the oldest maker of hand-made tea canisters (chazutsu, or tea caddies) in Japan, and is now the only such maker remaining. It takes over 130 separate steps to make one of Kaikado's tea canisters, and every detail bears witness to the meticulous manufacturing and skill of the Kaikado artisans. The surface continues to mature over time as you use your canister, so you participate in the process of creating a unique final product.

Double-wall structure and internal lid ensure airtightness

The canisters have internal lids and a double walled structure with copper on the outside and tin on the inside.The can and lid are designed so that when you put the lid in place and take your hand away, the lid descends slowly of its own accord, as if to complete the engraved Ippodo seal. When all the excess air is expelled, the seal is complete.

Tea canisters that mature. Enjoy the changes over time.

When you buy a canister, it is bright and shiny, with the reddish colour of a new copper product. As you use it, the colour changes, slowly becoming a glossy brown. At the same time, the soft texture gradually mellows. The key to achieving a uniform colour transformation is to regularly touch and stroke every part of the canister.
Specs
Copper tea canister engraved with Ippodo seal (medium size)
Box size : W9.4×D8.5× H10.0cm
Tea canister :
- Dimensions:Dia. 7.5× H8.1cm
- Weight:230g (canister) 
- Capacity:100 g of Ippodo gyokuro, sencha
- Made in:Japan
Note :
- The canisters are sold without tea. There is no tea in a new canister.
- If you touch the canister with wet hands, it may develop a blue-green patina. This patina is harmless and has no physiological effect.
* As the canisters are hand-made, production numbers are limited. At times, Ippodo may run out of stock or have to delay shipping.
* After buying your tea canister, please contact Kaikado directly if you have inquiries about the product, including requests for maintenance or repolishing.
About gift wrapping